WHO WE ARE
We create great looking, structurally sound, Australian horse shelters that are simple to build.
Horse Shelters Australia started as a side project 2003. A need on family friend's agistment property stimulated the design. Utilising the knowledge gained through an Engineering Degree the design was then refined over the following 10 years to what it is today.
The mandate was to design a shelter that:
looks great
is structurally sound and fit for purpose as a horse shelter
can be packaged and shipped anywhere in Australia
simple to build
The latest technology such as Computer Aided Design (CAD) have enabled us to develop full 3D models of all our products. This combined with modern manufacturing techniques such as laser cutting enable us to produce highly accurate and repeatable components and generate quality, detailed assembly manuals.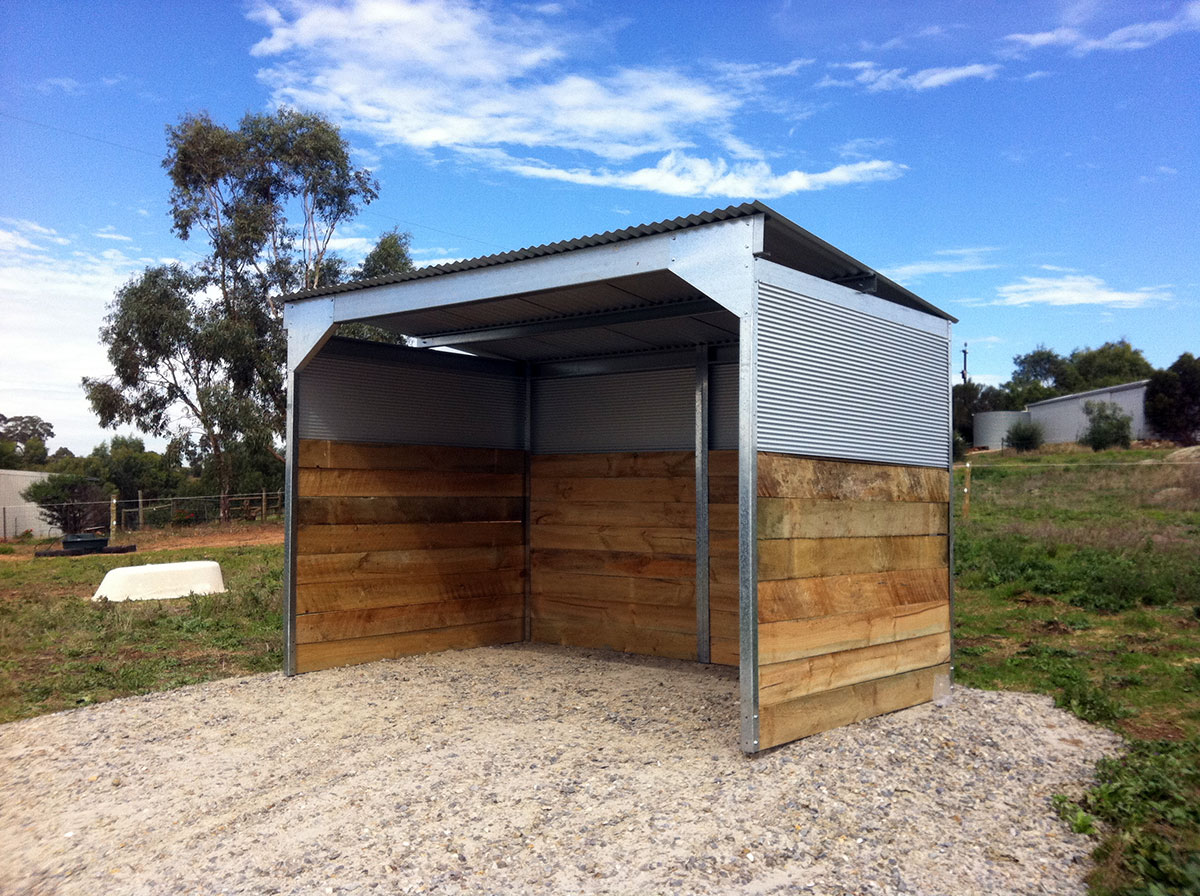 With such a great product, Horse Shelters Australia now focuses on exceeding customer expectations. We ship when we say we are going to ship, we deliver what we say we are going to deliver and are always available to provide support when needed.
Contact us now to see how we can fulfil you shelter requirements.
We manufacture and distribute from Adelaide, South Australia.
Construction
Simple to construct for the amateur builder. This is the guiding principle behind our shelters. We recognise that not everyone who buys our shelters has built a house or erected a shed. As result we have developed a simple system including an innovative approach to footings. The general process is:
Assemble each of the wall panels

Stand up the panels and mark out the base of the shelter (ensure it is square)

Dig your footing holes

Insert the sleepers into each wall panel

Screw on the roof sheets

Attach the footing brackets and fill the footing holes with concrete
Our record to build a shelter is a little under 3 hours (we have built a few!), while it may take you a little longer for your first shelter, two people should be able to build most of our shelters (with the exception of the double stable) in a day.
Other considerations
We recommend that you start with a flat AND level base. This becomes increasingly important for the larger and double shelters/stables. Typically our clients will prepare a rubble base.
Skills required
While our shelters are simple to build it is assumed that our clients have some level of competence with tek screws, nuts and bolts and also being able to measure diagonals to ensure the structure is square. Essential tools are a drill for the tek screws, spanners for the bolts/coach screws and tin snips to trim the corners of the mini-flute. Other useful tools are a socket set and/or impact driver (speeds up installing the coach screws).
Engineered
Structural integrity is a must for all animal shelters. This is why Horse Shelters Australia commissioned the consulting engineers at Combe Pearson Reynolds to analyse our innovative design and ensure each shelter is fit for purpose.
If you value safety, strudiness and longevity, this makes our shelters the only sensible choice.
The engineers at Combe Pearson Reynolds have analysed the member sizes, connections and footings to be structurally sufficient for Australian use based on the following design criteria:
Structure Importance Level 1
Design Working Life of 25 years
1:50 year wind annual probability of exceedance
Wind Loads to AS/NZ1170. 2: 2002, including the specific criteria:
– Region A
– Terrain Category 2
– Hill-shape Multiplier 1.11
– Topographic Multiplier 1.11
– Wind Direction and Shielding Multipliers taken as unity
Looking to get council approval?
We can help. With our independent engineering certifications we are able to supply you with a cover letter stating the conditions for which our shelters are designed. We are also able to provide Engineering drawings to supply to council. We recommend that you check with your local council to determine what they will require.
Shipping
Flat pack Horse Shelters shipped Australia wide. That is what we do. Contact us now for a quote to your property, just let us know which shelters you are interested in and where you want them delivered.
We have designed all of the components such that they can be neatly flat-packed and shipped to you economically. These packages can be handled with a forklift, or usually on delivery the pack is separated (tin snips required) and unloaded by hand. Typically shipping takes about a week from when we dispatch your shelter(s). Our shipping company will call you the day prior to delivery to arrange a mutually agreeable time for you to be home and accept the delivery.
Please note that you will require two able bodied people to be present at the delivery venue to unload the components off the truck.
Monthly Shipping Schedule
To keep our Australian made shelters reasonably priced when compared to other imported products we have a monthly shipping schedule.
We ship once per month at the end of the month. To be part of a shipment you just need to confirm your order by the end of the month prior.
More information about the purchasing process can be found in Purchasing.